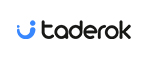 Taderok
About the Company
Taderok offers Interactive smart study aid books and an education platform to help students learn more effectively
Taderok is a smart study aid books publisher for children looking to improve in class and assist parents in monitoring their progress through a dedicated mobile application.
Taderok offers a rich catalogue of smart study aid books that are all adapted to the national and French education programs and created by a dedicated team of teachers and education experts. Books are sold directly on their platform, supported by a network of trusted bookstores and wholesalers who distribute the books.
Students and parents can visit the Taderok website where they can find a full range of study aid books in English, French and Arabic according to the different education levels all approved by the Ministry of Education and upgraded by the teachers in the team. All the smart study aid books help students improve their skills through a mobile app that brings courses to life with audio and augmented reality.
Students just need to scan the page to enjoy an immersive and interactive content that enhances the creativity, understanding and the speaking skills of students.